EDITORíS NOTE: Those readers who have followed the story of Sanni Ceto already know that she claims to be reincarnated from the E.T. survivor of the July 1947 UFO crash in Roswell, N.M. Sanni, born in September 1958, has led an unusual and difficult life. A hybrid in this life, she remains in almost constant contact with the Grays, in particular one named Khinyeo. She has been chastised and misjudged her entire life for being different, and in June 2000 found the opportunity to relocate to western Colorado, where she presently resides. The entire story of Sanniís experiences is forthcoming in the book Stranded On Earth, now in progress. For background on Sanni, see Star Beacon issues from April 1999 and July 2000.
As part of Sanniís mission here on Earth, she was to return to the site of her crash in 1947. Finally, in October 2002, she was able to do so. The following is a record of her return.
On Sunday, Oct. 6, Sanni took a bus from Delta, Colo., to Albuquerque, N.M., where she was met by her hostess from Roswell, Carol Syska. Carolís sister, Pauline Whisenhunt, was also present.
On the four-hour drive to Roswell from Albuquerque, Sanni was exposed to the high desert country with mountains in the distance - one of those being the one called Capitan - the site of Sanniís crash in 1947.
Monday morning found the three of them visiting with Florence Alexander, who completed the threesome that had first met Sanni in August 2001 during a stop in Paonia, Colo. Monday afternoon they went to the International UFO Museum and Research Center, where Sanni was introduced to the story of the Roswell Incident as was published in various newspapers across the United States in 1947.

Sanni was very interested in the MJ-12 material and other information regarding cover-ups by the government. Pictures of sightings over the years, accounts by eyewitnesses and photos of crop circles she found extremely interesting. Sanni gave Carol lots of new information about some of the subjects, such as various crafts, what they were used for, their propulsion systems, their protective systems, and other kinds of aliens besides the Grays, and where they were from in the galaxies.
Sanni was very interested in the alien dummy that was featured in the movie Roswell. She very quickly pointed out some errors, but agreed the likeness was an excellent symbol to help get the truth of the matter out to the public.
Tuesday was very cloudy and there was a slight mist falling when Sanni and Carol were picked up by Dave and Nettie Crocker for a trip to the crash site. This particular site has been referred to for several years as the "Ragsdale Site," because it was first made public by a man named Jim Ragsdale, who was an eyewitness to the 1947 crash. The site is located approximately 60 miles from Roswell and can only be reached with a four-wheel drive vehicle, unless one chooses to hike a couple of miles through very rough terrain. Dave drove his truck all the way. Just as we arrived, it started raining and we had a good shower before it stopped. The rest of the day was perfect with the sun actually coming out before it was over.
Sanniís return to the site of her crash was very emotional, but after several minutes of communication on her part, while she was very close to the large rock against which her craft had come to rest, she was able to reconnect with her crew members and her Council. We three "humans" left her and walked on a short ways into the forest, but kept an eye on her at all times.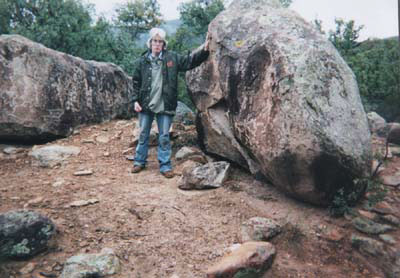 After her connection and communication was over, she told us she felt as though a heavy load had lifted off her shoulders. She reported that the Council had said she was forgiven and could now return home one of these days. Then, she roamed all over the area and, via flashbacks, recalled many of her experiences.
Wednesday was another day spent in the Roswell area. Since Sanniís favorite singer is John Denver, we showed her the area of town and the block where John lived as a boy. Homes on the block have been torn down and the post office and bank fill the area now. Then we moved on to the area where the hospital was in which John Denver was born. That, too, has disappeared, and in its place is the new city office buildings, where the city government is housed. Johnís father was in the military, stationed at Walker Air Base, when his famous-to-be son was born.
The next stop on our tour was to the airport area, where the famous "Hangar 84" is located. A private company now uses the facility and, of course, it is fenced in completely. However, we could see through the fence. Immediately Sanni started having flashbacks, which she described vividly - how material was separated into different piles, how many of the workers were without shirts because the weather the was so hot, and how she and the other aliens were put into wooden crates with cedar chips thrown around and these crates were nailed shut and hauled off by some kind of vehicle to the "big birds," and then flown East.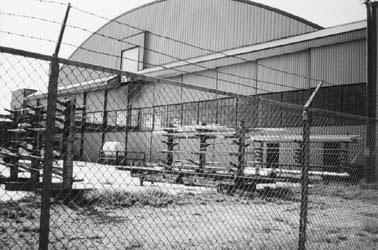 As we were leaving the area we noticed a fenced-in location that was pretty well filled with weeds but had some items protruding through. I thought they were just scrap pieces of old aircraft, but Sanni knew otherwise and so we took a closer look. There were four models of different spacecraft in the yard. Sanni proceeded to describe each one and how big the actual craft would be, how it would operate, and for what purpose.
Later, I remembered that at one time, a year or so ago, a couple of these models had been on display at the Mall north of Roswell. When observing them at that time, I just thought they were someoneís idea of what spacecraft could possibly look like, and they were not taken seriously by anyone.
Thursday was a day of "just fun." Several of us went on a hunt for some quartz crystals, commonly called "Pecos Valley Diamonds." This is the Pecos Valley, and the crystals can be found scattered over the area for several miles. As a result Sanni carried several bags of rocks home with her.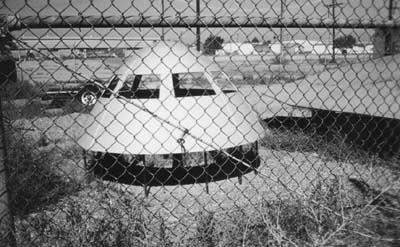 Friday we took in a bird sanctuary called Bitter Lakes, where the winter months find many hundreds of Canada geese, snow geese and sandhill cranes, as well as a few other kinds. Not too many were present, but some Canada geese and quite a number of sandhill cranes were seen. Another stop into the UFO Museum - mainly to the gift shop, where Sanni made some purchases.
Saturday included a bit of sightseeing, visiting some garage sales, and visiting with others who were open-minded people interested in meeting Sanni and hearing her story. That evening we left Roswell and drove back to Albuquerque, where Sanni caught the bus for her ride home.
During her visit we had two home-cooked meals and the other days she was introduced to some real "Spanish food," some delicious pizza and to a Chinese buffet.
In summary, I would like to say that when I first heard of Sanni and even after talking to her a few times, I was very skeptical of the entire story. But over the past two and one-half years of communication with her, I have swayed heavily in her favor. Now, after her visit to Roswell and hearing her story over and over - and the many different aspects of it - I have to say that I now believe her 100 percent. Her reactions at the crash site, at the museum, and at Hangar 84 were such that I donít believe anyone witnessing them could think otherwise. Her immediate replies to any and all questions asked her were of such nature that I donít believe anyone could have all that knowledge so readily available without having to think about it before speaking. I have heard many speakers on the Roswell topic and they all hesitate from time to time before speaking - but not Sanni.
She is truly a highly intelligent being, and I feel very honored to have made her acquaintance and gained her friendship. She should be highly respected by all and we should listen to her with our minds wide open. We may not have believed such as this in the past, and it does seem farfetched even now, but I can remember when going to the moon was an impossibility, much less thinking of going into outer space!
By the way, they (the aliens) do believe in a Supreme Being who created us all, not just the earth and its solar system! Thank you, Sanni, for sharing some of your knowledge with me.
When I went to the site of my accident, I saw four balls of light that were meant for me to see. These four balls came together as one ball and entered into me. The Council said it was the energy of the other four crew members who perished that night.
While at the crash site, I recognized the terrain, the landscape around me, as it being the site of where my accident occurred. I also had intense flashbacks to that night in 1947. I had felt a strong surge of energy through me while there.
Also, since my return to Colorado, (there has been) a strong pull to return to Roswell - maybe in a few years - to relocate there.
While at the museum, I was overwhelmed by my memories flooding back to me. I really liked the Pecos Desert and was impressed with the energies there plus the wonderful cactus plants, etc.
My council watched me the whole time while I was there. While going through Aztec, N.M., my implant started humming so loud, it blocked the sounds of the bus and the people talking. Every time I closed my eyes, I saw a crash occurring. My implant hummed till I arrived in Roswell, then it stopped.
I enjoyed the wonderful Mexican food and I really miss that, plus the new friends I made while there. I plan a return visit, at which time I hope to go to a rock and mineral show. I really enjoyed my time spent with Carol and meeting her friends and putting that jigsaw puzzle together.
Copyright © 2002 The Star Beacon, All Rights Reserved.